Our mission at the Titusville YMCA is to provide all programs and facilities on a non-discriminatory basis for all citizens, regardless of age, race, sex, creed, or disability. Every effort will be made to accommodate all participants. Within our programs, the Titusville YMCA incorporates Christian principles to build health, spirit, mind and body for all members of our community.

The YMCA offers a continuum of youth programs, including after-school programs, swimming, sports and leagues, instructional classes, health awareness, life/social skills, mentoring, service learning, computer training, and day camps among many others. The 21st Century Community Learning Center After School program offers exceptional after school enrichment with a healthy meal served, and a myriad of cultural and educational enrichment activities with added time for homework assistance. It's the perfect program to give your child an edge
in life.

We welcome both members and volunteers at the YMCA. To join, fill out an application or stop in our YMCA at your convenience. Your support is vital to our work and our youth programs. To volunteer time, talent or treasure, view our 'How to Volunteer' section.

We hope to see you soon!

The Titusville YMCA is a United Way Agency
Titusville is a city located in Crawford County, Pennsylvania. As of the 2000 census, the city had a total population of 6,146. In 1859, oil was successfully drilled in Titusville, resulting in the birth of the modern oil industry.

Why Titusville?
Why did Drake choose this spot to drill for oil? Well, the number one beacon was the many active oil seeps in the region. As it turns out, there had already been wells drilled that had struck oil in the region. The only problem was, they weren't drilling for oil. Instead, they were looking for salt water or just plain drinking water. When they struck oil, they considered it a nuisance and abandoned the well. At the time, no one really knew what to do with the stuff if they found it ....more

The Titusville YMCA was built in 1912 and has been an ever growing part of Titusville's heritage and an important factor in the community.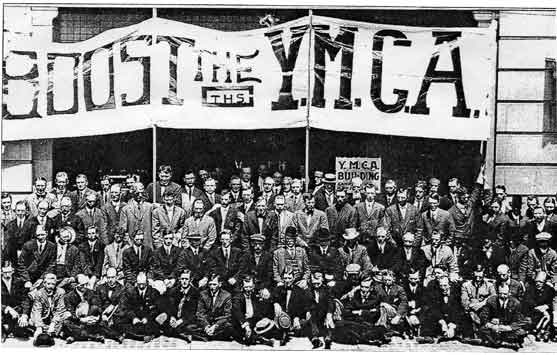 On May 20, 1912 A campaign to raise $75,000 dollars for a new YMCA building was launched by Titusville community leaders. Campaign headquarters was located in the Commercial Bank building. The seven-day drive was ended on the fifth day, as $90,000 had been subscribed.

The YMCA is still facilitated in that same building, and is a landmark and cornerstone of the community.
© 2007 Titusville YMCA. All rights reserved.